Rating: 4/5 stars
Long ago, in a galaxy far far away… 
The collaboration of the century took place. Shakespearean language mixed together with the fast-paced drama of the Star Wars world creating a story written in a way we never would have thought of before.
The First Order is about to destroy the universe, Luke Skywalker is missing, a small BB unit is lost on Jakku and one scavenger named Rey is destined to help. Add in one angsty boy named Kylo Ren and we have the makings of a Shakespearean play!
So, I am a huge Shakespeare nerd (I took a class in college if that says anything) and I love how dramatic his plays are. Each character has motives for doing things and there are characters playing fools for us to laugh at; and if you think about it… that's what most of our current movies are like, full of drama but without the whole "to be or not to be" speech.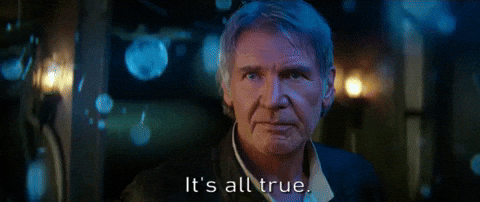 So as far as this book is concerned, I think it did a good job sticking to the original script/plot while adding the flair that only a play can do. This could easily be acted out in a group or enjoyed alone with some coffee. This book also does something that movies often can't do-let us into the character's heads. In this book I gained a little more understanding of Rey because the author included some inner dialogue to show her struggle with destiny. We also get a bit of Han's thoughts as his son runs him through in true Shakespearean style.
I am truly excited to read more from this series. The Star Wars nerd in me can't get enough. This movie series was a perfect fit, in my opinion, for a Shakespeare make up. I recommend this for the theater nerds and Star Wars fans.
Onward to the next book!